Creating a dream kitchen might not be easy as you thought, but now it is not impossible. Yes, here we bring forth pointers on how to make it more welcoming and personalized at the same time.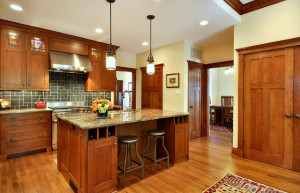 Change the overall look of the kitchen: By adding door mats and rugs

The best possible way to customize the kitchen is by adding a comfortable mat or carpet that you generally put under the sink or table if you have any. You can even go for multiple mats that you can place wherever you likely stand like kitchen countertops, fridge, etc.
Add wall clock to the kitchen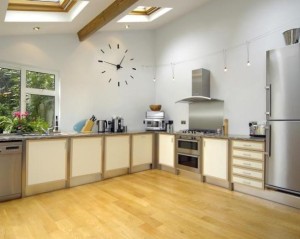 In order to dress up the kitchen or to give it a new look, you can buy big industrial clock and hang it on the walls of the kitchen. If you are in a playful mood, you can even buy crazy looking big wall clocks.
Adding trash can to the kitchen

We generally neglect this part, but trash can is the vital part of the kitchen décor. Instead of hiding the trash can beneath the sink, try exposing it, and pick colorful and striking trashcan that can give the feeling of oohh!
Play with colors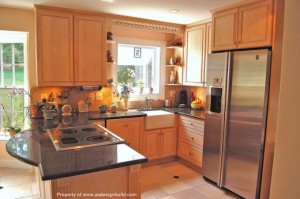 In order to wake up dreary kitchen, you need not to get involved in heavy paintwork, rather highlight one area with color effect. For instant, you can paint the window frame or the bottom of a shelf in contrast with rest of the kitchen like black and white, red and yellow or black.
For example, you can paint the frame of a window, or the bottom of a shelf, to contrast with the rest of the kitchen (orange vs. white, red vs. black).