Do you want to facelift your room? Or does your room look dreary? Here's the guide on how to make your room look stylish and trendy. Neon look is in rage, so why not add these look in your bedroom. Here are some steps that you need to follow: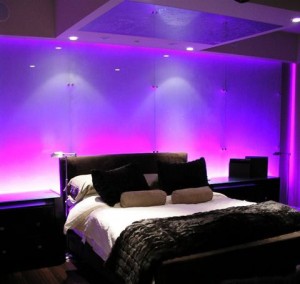 When it comes to room facelift, neon colours goes very well with light and sturdy furniture. So, the choice of the furniture should be contemporary and sleek.
Next idea, is to change the bed cover. Neon colours goes well with black colour. So, add it in your bedroom. If you have sofas in your room, go for some neon based sofa cushions. It will make a dreary bedroom look stylish and fabulous. Pile up your bed with neon coloured cushions. These cushions look distinct and creates a good impression on the guests.
Paint the walls- Get the walls painted in a neon colour. Adding a texture on wall will surely make the room look beautiful.
Place a neon coloured rug- Rugs work, so if you want to make the bedroom look beautiful, add neon coloured rug to the bedroom.
Buy neon wall hangings and other kinds of neon interior décor.
Last but not the least; use neon lights for the bedroom. Neon lights doesn't mean disco lights in the night clubs. Subtle and easy on eyes.