Green is the shade that represents relaxation and freshness. Green color scheme and room decorating ideas inspired from nature, looks pleasant and poise. Green is an environment friendly color and symbolizes life and growth. Light green paint shades, beautiful green wall mural or throw pillow, decorative fabrics with green prints or green accessories and trifle decoration items and splash of beauty to the home. Light green colors brighten up the gloomy room. Green leafy paint looks fresh and tranquil or you can even add beautiful green leave wall paper for that relaxing interior decoration. Light green paint shade complement with off-white, sky blue, lilac, pastel shades and olive green accessories, like curtain, windows, decorative pillow, lamp shades and vases. Green accessories in light, dark and pastel shades are best way to create contemporary home. Neutral shades bring in relaxing, comfort and balance in the home. Pastel green shades are soothing and calming. Forest green, olive green shades and willow green shades create rich interior design color with room decorating palettes.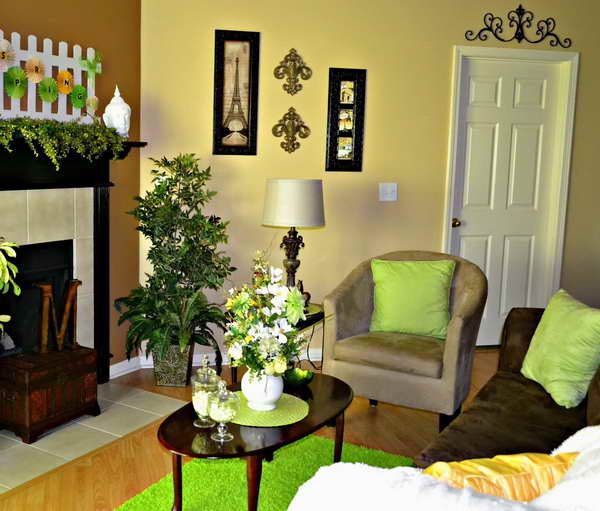 Room Decoration Ideas with green shades
Living Room– Green wall complements with gray living room furniture. Bright green color shades brings in dynamic contrast and create bold splashes, when complimented with white, light gray and off-white shade that add crispiness and elegance to home décor. Comfortable brown shades add harmony in green interior design scheme. Pastel green shades when combined with yellow shades create gorgeous, comforting and inviting home.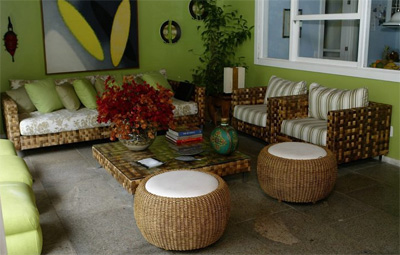 For baby's room– as we all know that green is calming and relaxing shade. Light green color shade is apt for baby's room décor and for young children bedroom designs. Light wall painting and kids furniture in light green color shade looks wonderful, bright, pleasant and relaxing. When a child grows, it is important to add more shades to light green color and create more dynamic and stimulating bedroom.
For children's room– Children can easily get bored with pista green color shade. Interior design color schemes that will get them engaged include apple green, aquamarine and turquoise green tones, lime green, malachite and emerald green shade, moss, olive or sage color look fabulous in children's bedroom. When all these shades are complemented with yellow, it looks all the more fantastic. Green and yellow color scheme exudes energy, optimism and cheerfulness. Grass or lime green room shades bring in peace and pleasant mood into kids bedroom and sunny yellow colors brighten up the room and bring in positive energy and warm atmosphere.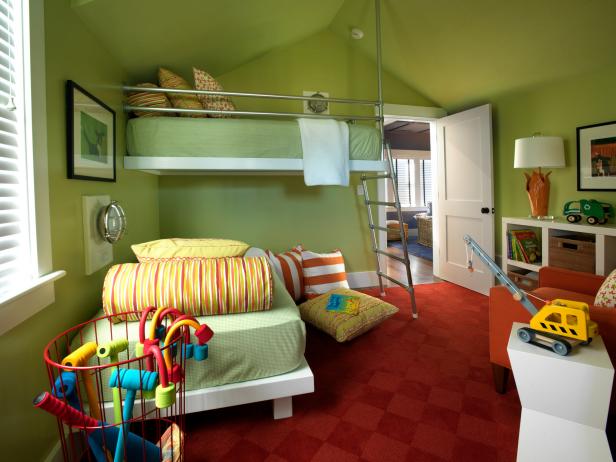 Green color shade for guest bedroom- Green color in itself is very relaxing and calm color. Light green paint colors, green wallpaper with leaves pattern or flowers pattern, room furniture and accessories creates feeling of cheerfulness in the room. Deep green shades create sluggish atmosphere in the room, so balance it out with home furnishings. Brighten up the shade with light neutral shades and bright accents. White and light gray tones, beige, yellowish green colors, soft yellow tones, golden and creamy yellow are the best choice to balance green shade in the room.
How to create a balance?
It's easy:
Balance contemporary furniture with green chairs
Living room decoration accessories balanced with green upholstered furniture
Can I paint the room with green shade?
If you wish to paint the walls with green shade, select light pastel green shades for warm home decorating. Modern wallpaper patterns matched with interior colors are best for modern living room design and decorating.
Conclusion
Decorating home with green shade is easier all you need to do is little bit of leg work. With little research and creativity you can create a home of your choice. Starting from living room to guest bedroom to your bedroom to kids room to children room, everywhere you can add splash of green. All you need to keep in mind is to balance the shade with accessories. It will do wonders for you!
Hope you liked the latest blog post. Let us know what do you think about this post in the comments section and if you find it helpful then we would be very happy if you can share it with your friends and on social networking sites Facebook, Twitter, StumbleUpon, etc.
Have a happy reading!