There are so many flower decoration ideas for your home. While decorating everyday with beautiful flowers can instantly cheer up any room. Flowers bring energy to any space in your room. Flowers can be  surprisingly  way to brighten your home.
You can always welcome your guests by creating flower art piece in your living room or adding flowers to your bathroom. Flowers offer any sizes or shapes, colors that you can instantly transform any room.
There are so many creative flowers decoration ideas that too inexpensive, one can enlighten your room. These ideas are not so time consuming or complicated one can add simple flower arrangements and get the stunning impact. These all colorful flowers can make all the difference. Following are some beautiful ideas to decorate your home with flowers.
Get some bright Tulips and put them in waterproof rubber boots they will fit the roll of vase perfectly. Grass or small flowers in basket can create a cozy atmosphere in the home.
Live flowers or house plants are always good, they can add colors to your surroundings. If there is something in your home which blooms and gives off a sweet fragrance. We would suggest you to get some colorful flowers and buy these to decorate.
You can decorate the flowers in some glass jars or containers, put some sea shells, pebbles or some fish aquarium decorations they can become a small work of art.
Use old kitchenware bring some watering pot or pitcher to plant some decorative flowers to match the walls of your home.
If you want to decorate your home interiors but short of time. Always opt for something simple. Single flowers in tall wine or soda bottles can draw attention of the surroundings. Bottles can be of same shape or different colors they all look nice.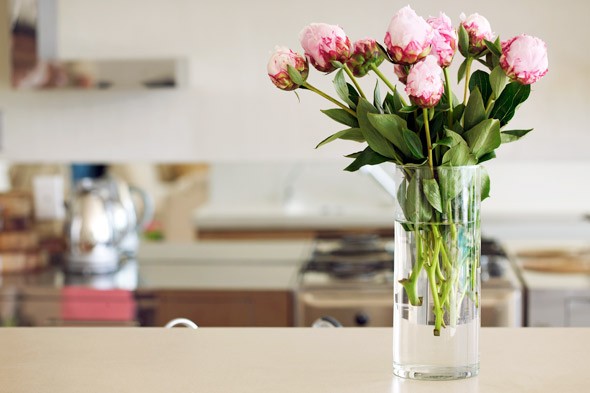 Get some old candy cans and make some red and white bouquet will look like a unique flower vase. Broken or wilting flowers live long if their buds are placed in shallow or ceramic bowl filled with water. Such floating compositions can be tried for Roses, Chrysanemums or Gerberae this will save their fragrance and colors for a long.
Paint some old tin cans in different colors and put along with the walls of your home you put flowers in these cans according to your taste. You can decorate your house with putting flowers in colorful tea or coffee mugs small cups or pots at dinning table gives a great look. Succulent plants or flowers always gives a better idea to decorate the dining table.
Tiny bouquets in tiny glasses will provide you a romantic mood as well as romantic atmosphere in your apartment. Add some flowers and greens to make a great combination.
One can decorate your doorframe with some beaded floral arrangements. There may be many  more ideas for this but flowers in your life always make you cheerful.