Terraces are not always present in every home. Hence, if you have one, then you should definitely make the most out of it. Terraces and decks give a beautiful scenic view of your yard, and as well as the surrounding neighborhood in which your house is located.
There are many ways in which you can create beautiful terraces. You may require some planning, but if you want to turn your viewing area into a cozy part of the house, then you may start with these ideas: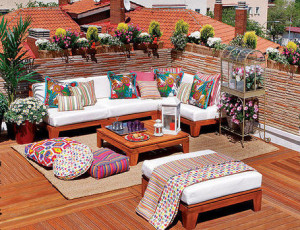 1. Hanging plants on the side.
Hanging plants, especially those with flowers, are great for terraces. They add a fresher, greener look on the banisters and make the house look less concrete. You can decorate the terrace with hanging plants so that it can serve as a garden too, as long as it doesn't block the view.
2. Add furniture.
Since terraces are a favorite spot to hang out by most homeowners, then why not turn it into a cozy den instead? You can add furniture pieces so that you can relax and enjoy your viewing moments, and as well invite friends to join you there.
Almost all types of furniture work on terraces, as long as they are not heavily upholstered. You can go with steel or wood furniture sets, or even plastic ones too.
3. Let there be light.
Terraces also look more beautiful at night when they are lit up accordingly. What you can do here is install some lighting, such as a hanging set of lamps or a small chandelier with frosted lights. With the proper lighting, you can turn your terrace into a romantic evening venue as the sun sets.