Do you plan to create orange kitchen style? Well, orange is a colour that symbolizes cheerful nature of a person. It's able to add enthusiasm, vitality and inculcate creativity. It is one of the favourite colour for family room. But it is o for a kitchen? It is great as long as you know what you should so. Creating the same effect with orange family room is not impossible. It simply means healthy fresh food. Consider several things before you embark on a new project-orange colour kitchen.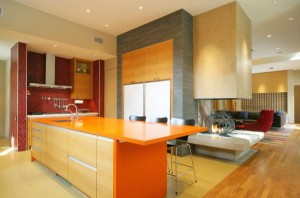 Proportion- Orange kitchen style should be in right proportion. Limit using orange colour that you will apply in the kitchen. Creating totally orange colour kitchen is scary and it will look strange, but proportional number of colour combined with analogues colour is a great way to inculcate lost spark.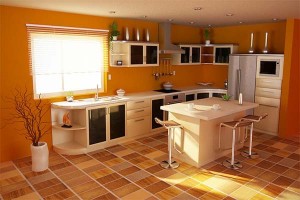 Flooring- Both ceramic and hardwood flooring are suitable for orange style kitchen. Shiny and bright will keep kitchen spacious and hardwood flooring will give modern look and natural touch to the kitchen. It depends upon your taste, which is better. But hardwood flooring can reduce monotonous decorating impression.
Kitchen accessories- If you want to select kitchen stools, then it is better not to select kitchen stools and kitchen cabinet of similar colour because it will make the stools disappear. If kitchen cabinets is orange, it is better to use white or grey stools. If kitchen cabinets are not in orange colour, so orange kitchen stools will be focal element of the kitchen.
In case of accessories, you may use orange flowers like gazania, Peruvian lily and crocosmia inside a glass vase above the cabinet of kitchen. Adding both fake and fresh flowers will make the kitchen look beautiful. Fake flowers require minimal maintenance and fresh flowers have more freshness and add fragrance to the room.
Don't forget kitchen lighting. Hanging lamp along with orange cap will complete orange kitchen decoration.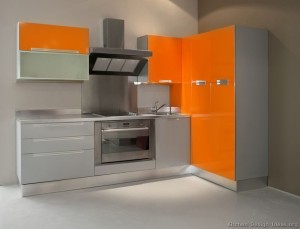 The primary idea of creating orange style kitchen is to select whether you will apply orange colour as a wall décor or as a kitchen cabinet. Don't do both. If you paint with orange and white colour, kitchen cabinets will look good in white, grey or brown colours. The second option is you may apply orange colour for the kitchen cabinets. Some shades of orange colour are tango, Tahiti gold and tangerine orange. These combinations will make your kitchen look shiny, vivacious and full of light.