Teaching your young children fundamentals about bathroom responsibilities can be a challenging task. Starting from toilet training to how to brush to kids bathroom etiquette, everything can be bit tedious. At the same time, kid's bedroom need to be an inspiring and fun place for them to learn and grow. Teaching them good bathroom decorating ideas is tough task to perform. With splash of color, little creativity and areas designed just for small hands and innovative minds, here are some decorating tips for the bathrooms. Depending upon kid's age, you can use these tips at your disposal. For younger children, primary and bright colors are the best and for older children consider thinking mature color palettes and neutrals or pastels.
Tips on how to decorate kids bathroom
Create a striking and colourful backdrop– While most of the plumbing fixture comes in neutral shades of white, bone or brown the backdrop around it should be colourful and full of fan. Consider painting vanity cabinetry, walls and stencil popular sayings on the wall. Be very careful about using wall stickers as the humidity in the bathroom may cause them more damage. In order to create a new look to the bathroom add a new style wall paper in the bathroom. It is a great alternative to paint and bring style and color to the bathroom. You don't need to worry about the wall paper styles, they are available in sturdy and durable fashion. It can withstand condensation.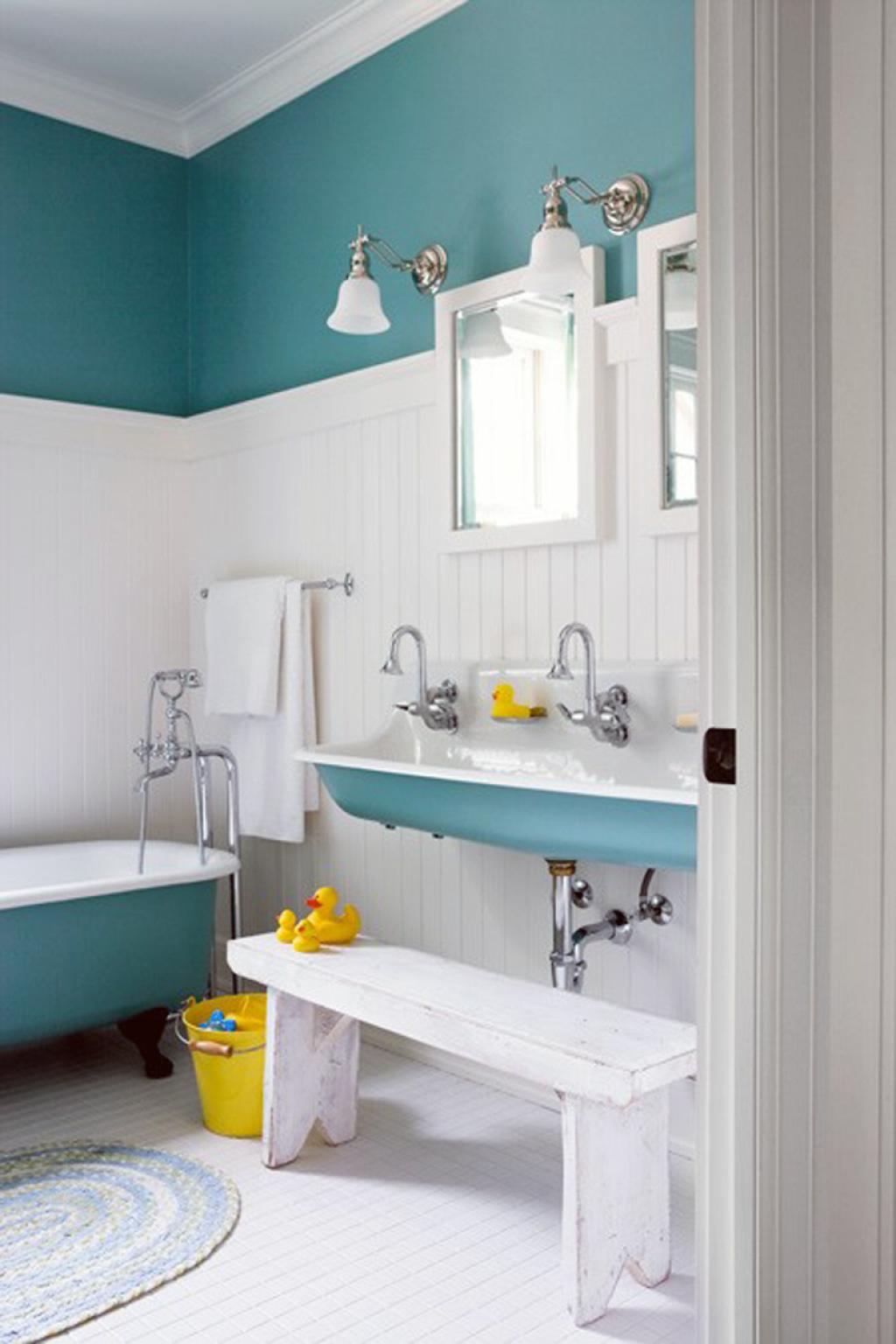 Keep walls clean with durable surfaces– when decorating kid's bathroom, especially around the wet areas like sink, toilet, bathtub, make sure the surfaces are easy to clean and is durable. Ceramic tiles, scrubbable wall paint and beadboard panelling is the best for kid's bathroom.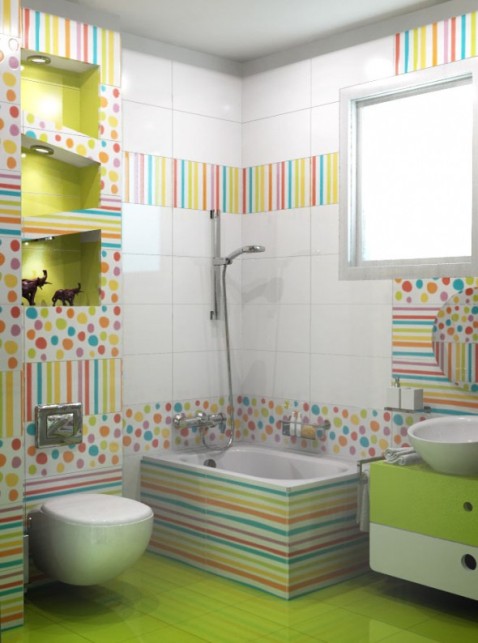 Incorporate ample lightning arrangements in the bathroom– This tip is suited for any kind of bathroom. You don't need dark areas in the bathroom and is in best bathroom interior design ideas. In order keep cleanliness intact and to see what your little one is doing, supply ample lightning arrangements in the home. Kid's bathroom are prime area where they get hurt, so make sure that you have adequate wall sconces, ambient lightning, pendant lightning and task lightning arrangements. It should not cast shadows.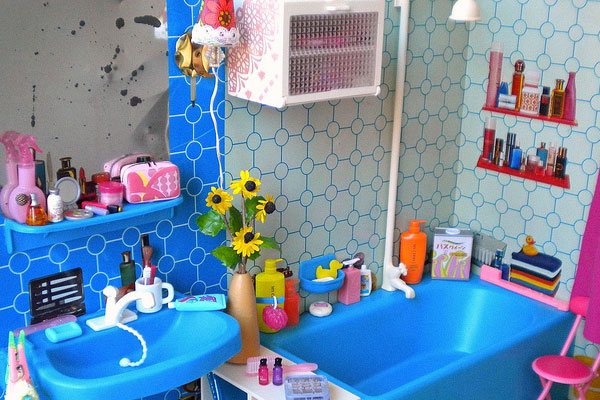 Make them Learn how to organize items– When decorating a kid's bathroom, it is important to remember to make them learn how to organize cluttered things. Vanity sinks with open shelving arrangements below, bath storage toy with suction cup holders and baskets to store toiletries will help the kids bathroom to keep it clean and tidy.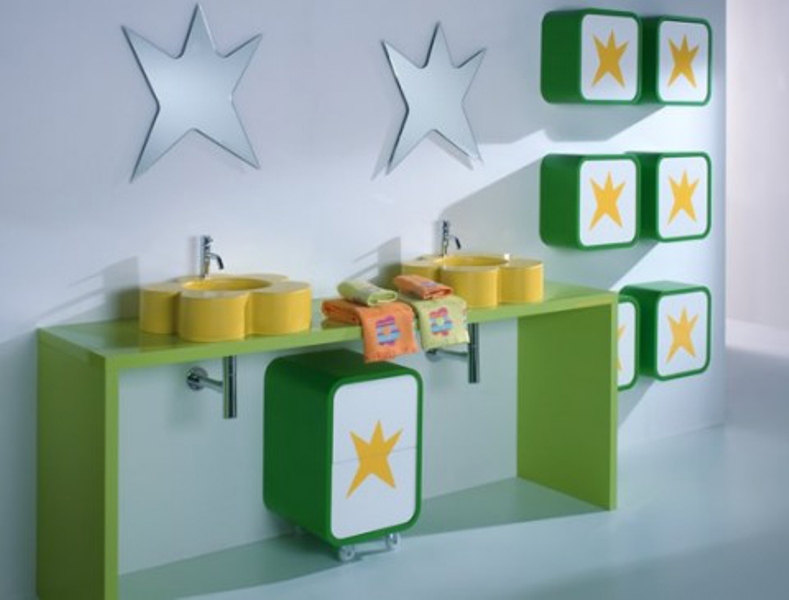 Add small fixtures for your kid– Believe it or not, a small plumbing fixture is apt for toddlers and small children. There are mixed reviews about the same whether the small fixtures are apt for teaching kid's on how to use the bathroom. Regardless of the reviews, when you are planning kid's bathroom, it is important to consider viable alternatives that exist for growing child.
Accentuate the bathroom within budget– While you can spend a lot on decorating a kid's bathroom, it is important to realize that you need to complete overall look of the bathroom by adding matching accessories. The accessories should be cost effective and it should make a great impact too! Starting from color coordinated bed linens, area rugs, shower curtains and toiletry holders, you can mix and match lot of color palettes to get a designer look.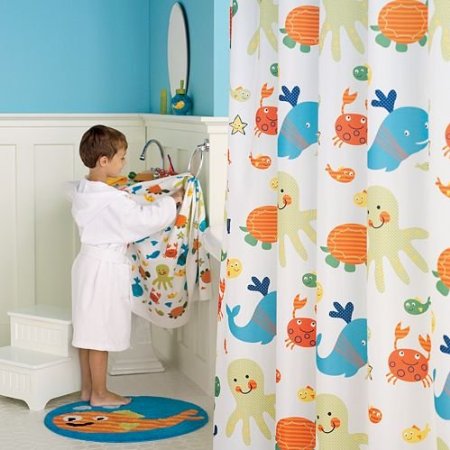 Select a theme for kids bathroom- If you don't know how to decorate the kid's bathroom, the best way to decorate is to select a theme that they like or enjoy. Commencing from animal print to jungle theme to fun pass time, the options are endless. In order to create playful look, you can even add cartoon characters and animated themes in the bathroom. If your child is old enough, ask them about their opinion on how would they like to decorate their bathroom.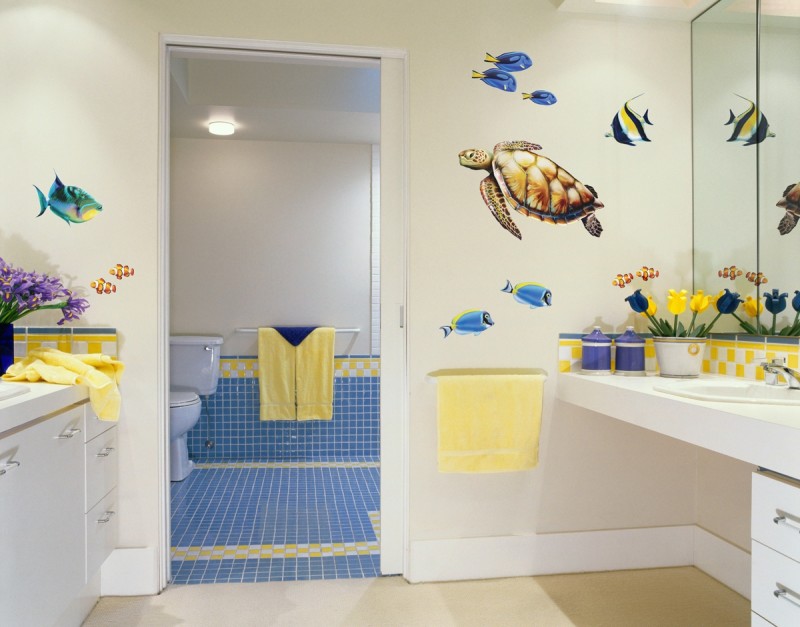 Take into consideration bathroom safety– Ensure that the bathroom is fully equipped with all safety methods needed in the decor. With beautiful vanity cabinetry crystal knobs are creative to look at, if they are not properly placed it can cause hazard to little ones. Ensure that the bathroom cabinetry, harmful items and other decorative accents are not accessible to the kids.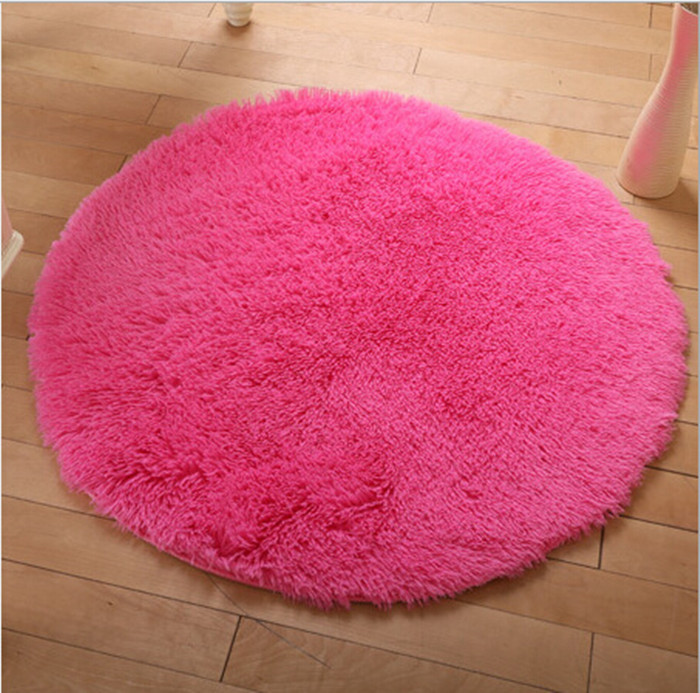 Update teenager's bathroom-For older and mature children and teenagers an urge to over accessorize the bathroom and color coordination may not be too strong. Instead you can go for temporary accessories that can change the overall look of the teenager bathroom. It will also perk up their mood. Other items that can bring up the look of the bathroom include colourful towels, area rugs, coordinated artwork hung on the wall. All these accents are truly wonderful and is the best way to make your teen comfortable within their space.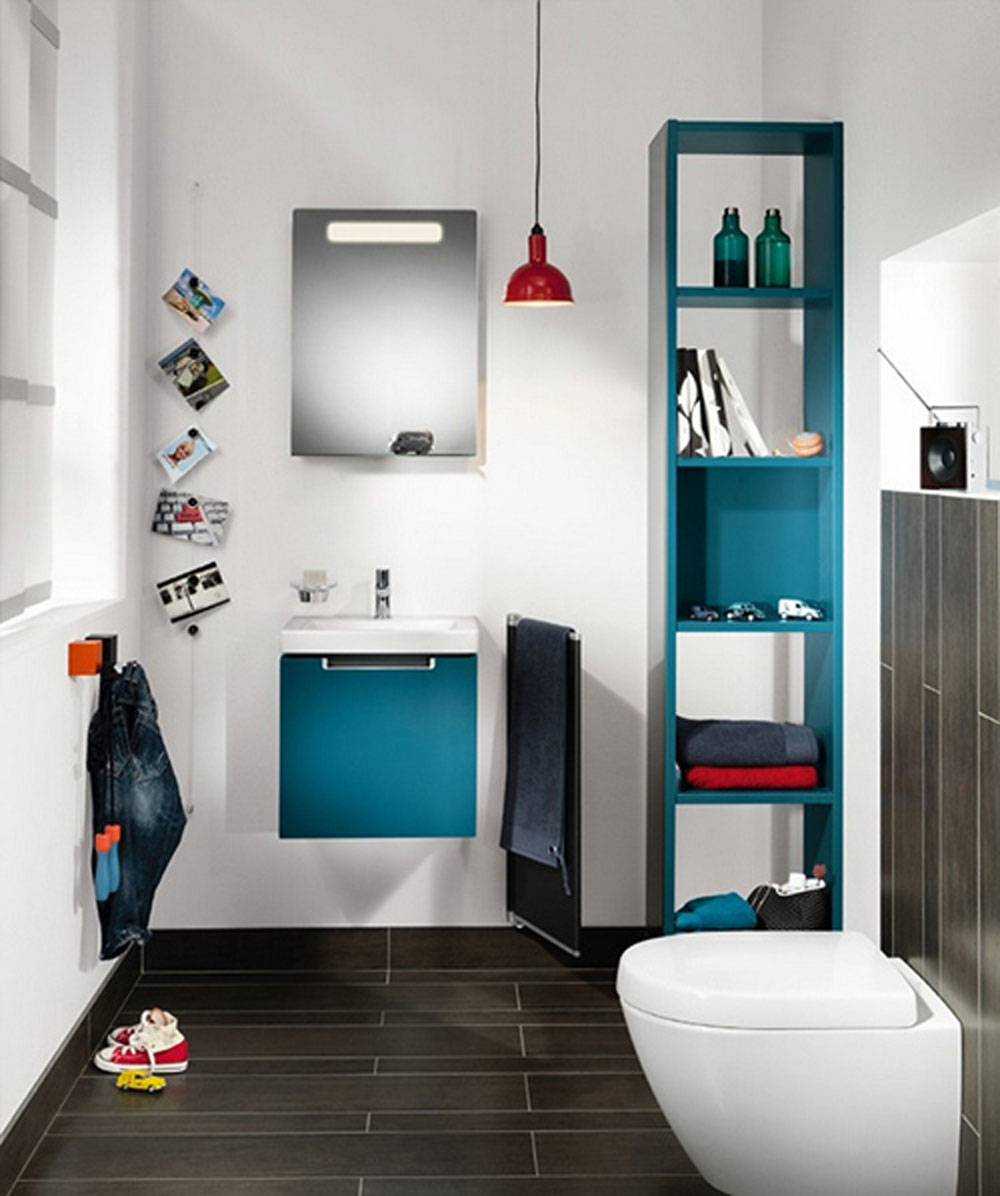 Keep the things simple and easy– It is easy to get wrapped up in decorating a particular room for your home. Remember to add fun element in the kid's bathroom and seek inspiration from different blogs, articles, interior decoration magazines, from friends, relatives, and visiting local houseware stores. You can even visit local flee market to buy the items. From coordinated color schemes to accessories, you can add different elements in the bathroom. Think out of box!
Last but not the least; bring all these elements together in kid's bathroom decor. Consider the age of kid while decorating and select a pattern according to their personality. If you are a busy parent and doesn't have time to think upon it, clean up toys in the bathroom, add baskets for quick storage.