Want to get modern and spacious bathroom to suit your requirements and personality. Here are some ideas for the same:
Whenever we talk about designing, bathroom tends to be the most ignored part of home, but now things have changed and you have thousand of designs waiting for you.
Neutral White
The varying tones of white, icru and ecru combine visually to make the bathroom look spacious and giving it a spa-like quality. The room's neutral color scheme has a sun kissed radiance to the natural flight that flows through divided light windows:one in the shower and one above the tub. The light and airy feel translates into period-style bath that looks amazing.
Add wallpaper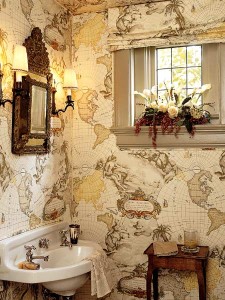 a paisley wallpaper pattern brings in the wow factor to the room and it adds an oomph factor to the white surfaces and fixtures and classic bearded board wains coating.
Marble
Richly ingrained marble creates an exuberance and amazing feel in the master bathroom. The beautiful Equator Marmara marble tile shimmers in shades of gray in the shower and on the floor. The black and white animal print stool offers sparkle to the room.
Serenity in Stone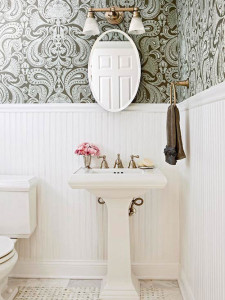 Inspired by a luxurious bathroom, this bathroom is bright, elegant and offers timeless look in the shades of white and bisque. The shower and tub along with the mosaic floor tile looks great. On the wall, opt for shimmering decorative paint treatment in warm beige that reflects natural light to multiple mirrors.
Traditional Styling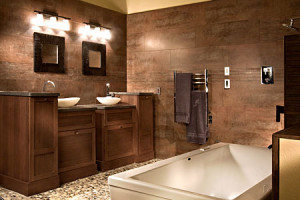 The rich mahogany makes the master bathroom both elegant and desirable. Antiqued brass reinforces the vintage feel, while the square white porcelain points adds a contemporary look to the bathroom. A pale limestone floor and counter-top keeps the darkness away, while golden crack-finish subway tiles creates a bright and cheerful look.
Be environment friendly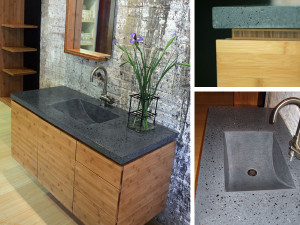 Go green with neutral shades made from salvaged and renewable materials adds a beauty to the bathroom. Reclaimed wood, a rattan stool, stone bath math made from renewable resources are soul-soothing. Stone tile and golden wall adds earthy feeling to the bathroom.
Add drapery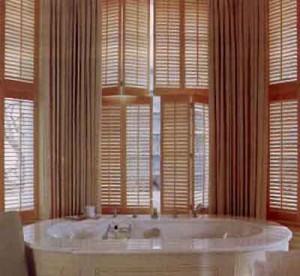 Drapery adds a zing to the bathroom. White curtains along with white subway tiles wrap the room in a same style and adds a periodic look to the room. The warm brown color on the ceiling makes the tall room look cozy and comfortable.
So, by adhering to above-mentioned tips you can create a bathroom that scores well in terms of beauty and inspiration. Whether you dream of a chirpy bathroom or a cottage-styled bathroom, you can select everything under one roof.